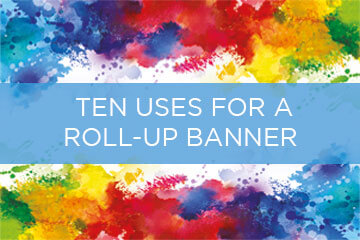 In an era of digital signage, integrated screens, apps and video content, are the days of traditional roller banners for exhibition use over? We don't think so.
Digital signage is playing a bigger part in exhibition and events than ever before, creating a cacophony of sound and moving images. What was cutting edge and stood you apart from the competition has now become the norm, with the impact being ever more diluted by the volume of businesses adopting the same approach 'to be different'.
The Roller Banner still offers key advantages over digital signage in a myriad of ways; it's designed for maximum impact at a minimal cost, offering a focused functional message and making it accessible to all businesses, from start-ups to multi-nationals. The very nature of roller banners means their height of over two metres guarantees visibility across a room.
Set up is simple, and can be easily achieved by one person in a matter of a few minutes. With no power supply required or weighty display units to be installed (unlike their digital counterparts), roller banners can be situated anywhere you have a flat floor, and in the case of products such as the X-Banner, even rough or uneven terrain is not an issue. The X-Banner has all the benefits of a roll up banner, but also has the added advantage of the banner graphic being multifunctional, as it can be removed from the X-Banner stand and attached to walls or hung by the eyelets.

Compact and lightweight, roller banners take little storage room when not in use; simply remove the back support pole, roll up the banner and slide it all back into the carry case the banner comes with. Often these cases feature shoulder straps, allowing the user to carry them easily without needing additional manpower for dismantling and transporting the display.
Roller banners are often (quite rightly) associated with exhibitions and events but they are also strong awareness drivers in car showrooms, shops, supermarkets, museums and leisure centres and even hotel and restaurant foyers.
There are many grades of quality with roller banners; some offer the ability to change the printed graphic in the hardware, with others being designed almost for a one or two use life. The quality of printed material you choose for your banner will partially define the lifespan, be it a standard PVC or premium polyester film banner. It's worth spending a little time to think about how much wear and tear your banner will be subjected to, and how long you are looking to use it for. Premium brands and high end businesses would do well to invest into a higher quality roller banner with a premium print finish to reflect their perceived brand values.

For exceptional value and a huge impact with a tiny price, consider the new Budget Banner range- ideal for exhibitors and businesses with a limited budget.

Also new to Signwaves is an improved and extended range of Quick Banners; a fantastic banner that allows a super simple graphic change with its top and bottom clamp rails, rather than a traditional spring coil mechanism. The Quick Banner is now available from stock in both single sided and double sided formation - the latter being perfect for situations where your banner may need positioning in the middle of a room or where people can walk around it.
With banners available in a myriad of different widths, it's also quite possible to create a stunning wall effect with your banner, offering greater awareness and visibility – but still at an affordable cost.

Getting the Most From Your Banner
Simple, striking, high resolution visuals with minimal text are absolutely key to creating a roller banner with real purpose. High quality graphics and crisp, sharp digital print will automatically draw the eye to the banner, whereas poor quality images and design could well do more harm than good. Keep fonts easy to read, such as classic sans serif, to ensure the viewer is not turned off by overly elaborate text. Where possible, try to keep key messages to around waist height and above to avoid messages being lost at a lower level.
The ideal situation is traditional display, such as the roller banner, and digital signage working together to create a rounded and considered marketing message that will get your business noticed.