Realising Brand Ambition Through Print
Signwaves is a printing company just as much as it is a manufacturer of signs and displays – perhaps more so. We invest heavily in print, not just in machinery, but in research, testing and process improvement to maintain the highest level of quality and service innovation. It is a competitive advantage we are proud of, based on extensive knowledge and experience. We've been steeped in it since 1989. We have a complementary array of screen, digital and dye-sublimation output which allows us to print onto virtually any material at any size and shape; whether flexible or rigid, metal, plastic, board or textile, low or high quantity.
The fact that we print in a variety of ways, using a variety of specialist inks and equipment, isn't important. What matters to our customers is the confidence in Signwaves to bring their brand to life with care, precision and consistency, in a way that helps them gain presence, promote services and attract customers.
Colour Management
As part of Signwaves ISO and Quality Management System, we operate advanced ColorServer and SmartProfiler colour management to standardise colour profiles and printer calibrations for different output devices. Although fairly typical in the off-set/litho print media sector, systems such as this are far less common, but no less important, for large format and digital print. The colour standard and colour profiling system helps ensure reproduction,particularly from different printers and medias, is identical regardless of which printing process is used.
The benefits are:
Consistent colour reproduction across different medias and outputs.
Improved quality, such as optimised matching of pantone colours from CMYK/mixed colour digital output.
The system is also used to calibrate monitors in the artwork and print studios to produce reliable visual reproductions of artwork files, to aid proofing and for production checking.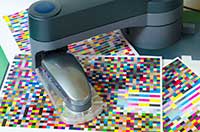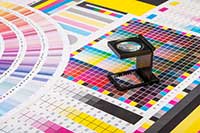 Digital Printing
Digital printing is ideal for: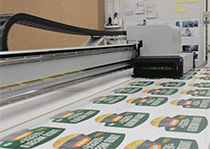 Low quantities, prototypes and sampling.

High definition close-up viewing.

Illuminated panels.

Multiple designs in a run.
Digital printing offers faster turnaround and lower cost than screen printing on smaller runs because there are no origination costs and minimal set-up times. Digital artwork files, once checked, are 'ripped' to one of the state of the art flat-bed or roll-fed printers, which print all of the colours in one pass. We control output definition and ink percentage depending on intended use and viewing distance. For example, a large outdoor banner will be printed at a faster speed and lower resolution than a photographic quality lightbox transparency designed for close-up viewing. It is very common for us to print a mixture of digital and screen processes to produce the perfect reproduction of a customer's artwork and brand identity. Digital for full colour elements, and screen for precise matching of Pantone spot colours and varnish.
Screen Printing
Screen printing is ideal for:
Precise Pantone or spot colour matching.
Simple spot colour designs.
Extended outdoor life.
Adding varnish to screen or digital prints to enrich colour, add gloss and increase protection.


Unlike digital, each colour is printed individually. Artwork requires colour separating, each colour requires a screen stencil and each stencil requires machine set-up and cleaning after use. It is these 'origination' costs that generally makes screen more expensive than digital on anything other than long runs and simple one or two colour designs. If we feel it is imperative to use the screen print process for whatever reason we will advise customers on receipt of artwork and quote accordingly. We manage artwork files and colour separations in-house and produce our own films and screens.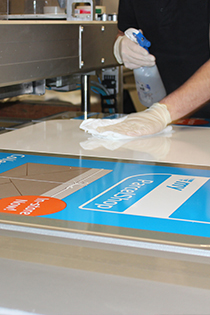 Varnish Over-Print
Although not essential we tend to recommend a clear varnish over-print for outdoor use digital prints. The reason is digital inks are naturally matt and a matt finish is more inclined to attract dirt which will dull the image.
The benefits of varnish are:
Enriched colour vibrancy and depth
Added protection from dirt and atmospheric pollution
Will help repel dirt and keep the print looking brighter for longer
Improved scuff and scratch resistance
Improved resistance to chemicals and solvents

For interior situations varnish is not necessary unless added gloss or gloss highlights is desired. A matt finish in-store is generally advisable anyway to reduce glare from internal lighting. Our printed chalkboards will generally have varnish quoted as standard to help protect print from frequent cleaning.
Dye Sublimation
Dye Sublimation printing is ideal for textiles for producing soft signage, flags, interior banners and retail and exhibition graphics.
The results produce:
High scuff resistance as a result of the ink being 'fixed' into the media
Graphics that can be washed and folded without fear of damage
Excellent show-through on thinner fabrics - ideal for double sided flags


Unlike other printing processes that layer ink onto a surface, dye-sublimation forces the ink to penetrate into the material by use of heat – a post printing 'heatfixation' process.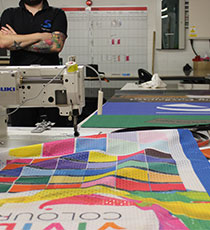 3D Lenticular Print

Fun and attention grabbing lenticular print creates eye-catching 3-dimensional images that demand a closer look! Because lenticular graphics work by being viewed at different angles the viewer will spend more time interacting with the image, turning this simple interaction into an experience that can enhance brand recognition and message retention. Printed at 100 lines per inch on 0.6mm PET, motion or 3D effects can present a message in a new, exciting and memorable way – and is not as expensive as you might think!
Contact our dedicated account managers today and find the print option to suit you. If you are looking for sign and display hardware to apply your printed branding to, take a look around our product categories - we are confident that we will have what you are looking for.