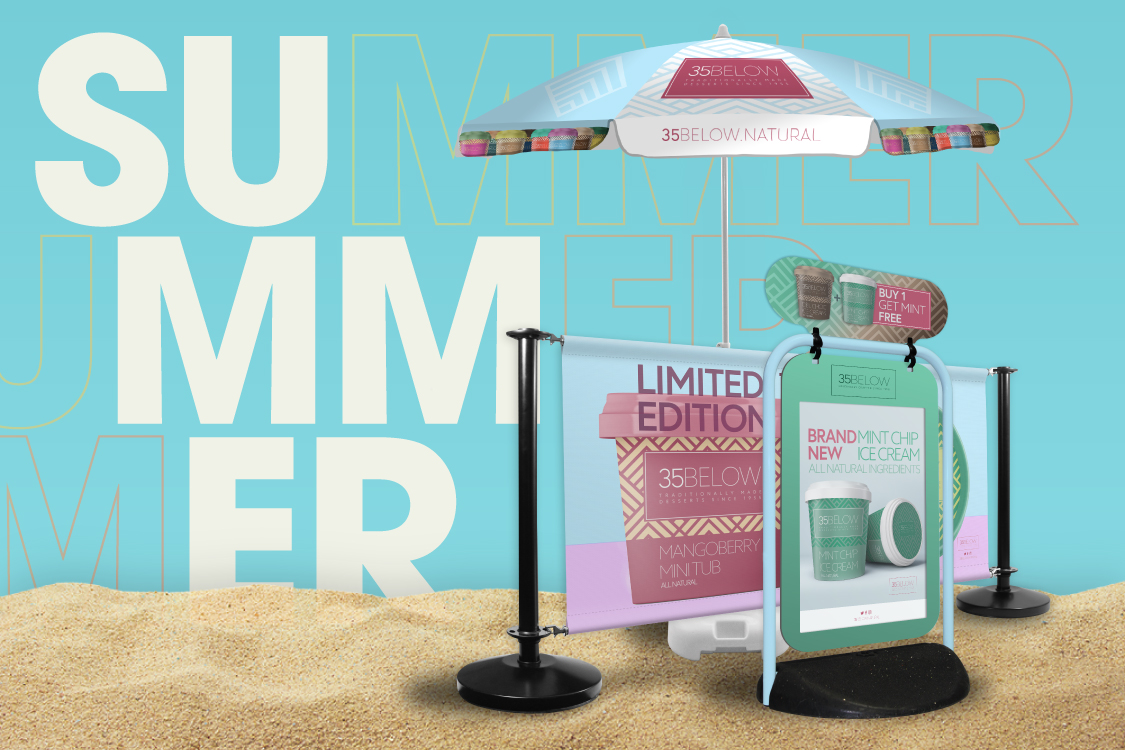 As we welcome in the new year, it can be easy to forget that the start of spring and summer is only a matter of months away.
And, there's plenty for brands, retailers and those in leisure and tourism to feel positive about in 2023!
After recent disruptions, this year looks set to be relatively smooth sailing - with the hope of more hot weather and many cost-conscious Brits choosing to holiday at home.
This has encouraged many big brands to start planning even earlier how they will grab customers' attention. It is perhaps no surprise that outdoor signs and point of sale are at the centre of many of their plans.
As one of the UK's largest suppliers of POS signs and displays, we've seen first-hand what a difference products like our Ecoflex, Swinger or Sightmaster 3 can make.
So, we thought we'd take a look at why summer 2023 could be the season of the sign…
Big brands need big brand awareness
For big consumer brands – from ice cream to fashion, soft drinks to furniture – grabbing the UK consumers' attention will be key this summer. Many brands will be working harder than ever to maintain or grow their market share.
In a busy and noisy world, signs have always played a pivotal role in grabbing attention.
Across high streets and shopping centres, it is likely many of the names we recognise most will be using stand-out signs to ensure their brand and products are never far from consumers' thoughts.
More people are set to take staycations
One of the features of the pandemic was the staycation – taking time off to stay at home, rather than going away on holiday.
Once restrictions lifted, UK-based holiday destinations also boomed as cooped-up Brits explored our country rather than venturing abroad.
With the new pressures of the rising cost-of-living, the UK leisure and tourism industries are already predicting 2023 will once again be a strong year for the Great British holiday.
More people are expected to stay closer to home and spend their hard-earned money on local attractions, days-out and treats.
And if proof were needed, the Sun newspaper has relaunched it's '£9.50 holidays' to UK (and European) holiday parks!
Using fixed and free-standing signs to attract home-holidaying Brits looks set to be a key tactic for brands and businesses.
It could be another scorching summer
2022 saw one of the hottest summer periods ever in the UK and this is likely to be an increasingly frequent occurrence on our shores.
As we saw last summer, the warmer and drier weather meant many more people ventured out into our towns, cities, countryside and seaside – and spent more money on leisure, refreshments, summer clothing and outdoor products.
With strong odds on us having another hot summer, outdoor signs, parasols, café barriers, flavour boards and branded chalk boards are among the weapons many brands and retailers are again using to entice hot but happy consumers to enjoy their products.
High streets are becoming more competitive
The cost-of-living squeeze has made the UK high street even more competitive, with NielsenIQ* reporting 63% of consumers are being more selective with their spending.
As such, the battle will be on this summer between brands and retailers to attract the maximum number of consumers into their stockists and stores.
Helping create kerb appeal will be static and free-standing Point-of-Sale signs, using promotions to encourage shoppers to venture inside.
Are summer signs key?
So, we've outlined the opportunities and challenges - but are outdoor and Point-of-Sale signs really a solution?
On a busy high street, promenade or forecourt, grabbing attention will be key for ambitious brands and businesses this summer. Fortunately, outdoor displays or free-standing signs have the power to attract.
As one of the UK's largest suppliers, manufacturers and printers of Point-of-Sale signs and displays, we also have one of the widest ranges of outdoor free-standing and wall-mounted signs – plus banners, flags, parasols, café barriers and many other innovative products.
With decades of experience working with many of the UK's biggest brands, we've seen how year-after-year they consider storefront, pavement and forecourt signs key to success - not only in the summer but all year around.
So, what works best?
Ever since the first A-board was placed in a busy market place, signs which stand out from their surroundings have been regarded as one of the most effective ways to attract customers.
Today, few storefronts or forecourts are without free-standing signs. Signs which move in the breeze – like our Swinger range, Ecoflexlite or Sightmaster 3 spring sign – work particularly well to draw the eye.
Working with many of the UK's best loved brands, we've also created bespoke pavement signs in exciting shapes and forms which have become iconic on UK high streets.
Fixed signs which project out from the wall are another great way to grab the attention of passing trade.
And who hasn't had their gaze caught by a promotional flag or banner fluttering in the summer breeze?
There's still time to shine this summer
Despite the winter gloom, it's surprising how quickly the seasons change and spring and summer arrive.
With in-house manufacturing, printing and excellent stock levels, we pride ourselves on short lead times and fast delivery. We've some of the quickest in our industry.
Our products are also built to be longer-lasting and durable, making them more sustainable and better value.
However, particularly for big brands or retailers with significant requirements, it's best to start planning early to ensure both the design and supply are ready to help make your summer 2023 a record year.
Are you ready for summer 2023?
Whether you're a retailer – or a brand looking to promote your products and support your stockists – our design, manufacturing and print teams are ready to produce a solution which ensures you stand out this summer.
For more support, visit www.signwaves.co.uk or contact our friendly team at [email protected]
*NielsenIQ report: https://nielseniq.com/wp-content/uploads/sites/4/2022/11/New-year-new-challenges-November-Report.pdf