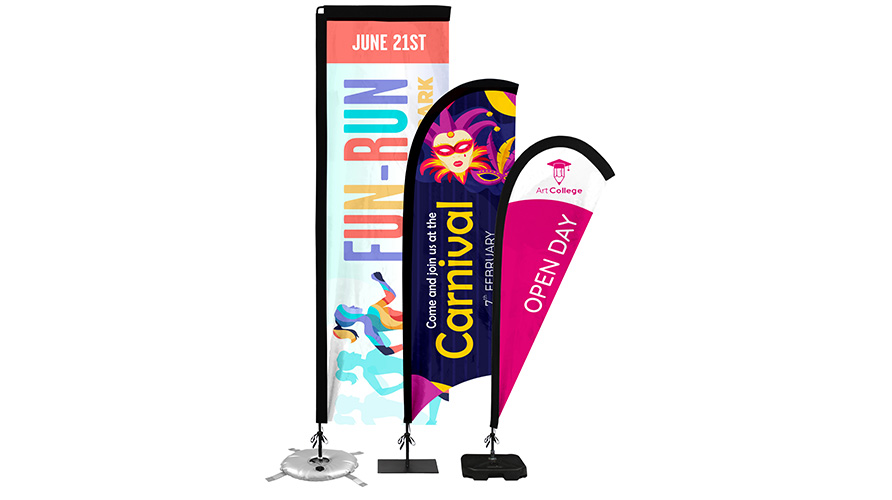 The popularity of Flying Banners, sometimes referred to as Event Flags, Sail Flags, Beach Flags or Feather Flags, has grown tremendously in recent years.
Whilst remaining as popular as ever with charities, organisers and supporters of outdoor events and challenges, and for use at festivals, galas, conferences and fairs, the eye-catching appeal of Flying Banners has found favour with pretty much every brand and retail marketeer with an interest in outdoor promotion and a desire to be noticed. Flying Banners can now be seen everywhere, in large numbers on our high streets, outside car dealerships, petrol stations, out of town retail premises, tourist attractions, banks and fast food outlets to name a few.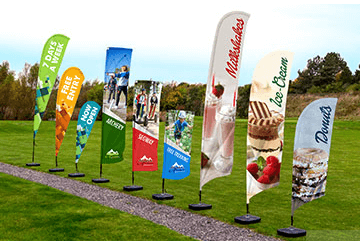 Unless a company has proven that using Flying Banners every day is good for business, their greatest impact can be achieved when used intermittently, selectively or spontaneously, to highlight new product launches, promotions, special offers or events. This also helps to prolong the life of the flag which by nature can only be expected to last a few months if left permanently outdoors.
The hardware (poles and bases) should last for years, so what else can be done to help prolong the life of the flag?
Good quality hardware
This undoubtedly helps. High strength, flexible, carbon composite poles are more stress/gust resistant than rigid aluminium poles. It is also important to make sure the base or ground spike is fitted with a rotating spindle so the pole and flag rotate freely. Any resistance to flag rotation will put added stress on the flag, and a flag sleeve that is forced to rotate around a non-rotating pole will be subject to increased wear.

Choice of flag material
For optimum performance in windier conditions, or to give a flag the best chance of lasting longer if used permanently outdoors, we would recommend an 'airmesh' polyester fabric with reinforced elasticated sleeve. Small holes in the fabric allows more air to travel through the flag which reduces wind resistance and stress on the flag, whilst the reinforced sleeve adds strength and abrasion resistance around the pole and the elasticity tends to aid tensioning of the flag on the pole.

Flag Construction
Beyond the lightweight 100 – 130gsm knitted polyester textile that is best for this type of product, look out for the detail in the flag construction that can make a big difference, such as double-stitched hems and pole sleeve, reinforced pole sleeve ends to stop the pole end pushing through the top of the flag, and draw-string tethers that allow adjustment of the flag tension.
Flag Shape
Choice of flag style can make a difference. If a fluttering flag is less important than lifespan, and your graphics are suited to the shape, then consider going for the Teardrop Flying Banner. The lack of a flapping 'fly' (the opposite side of the flag from the pole) reduces the risk of fraying in the edge of the flag that constant flapping induces over time.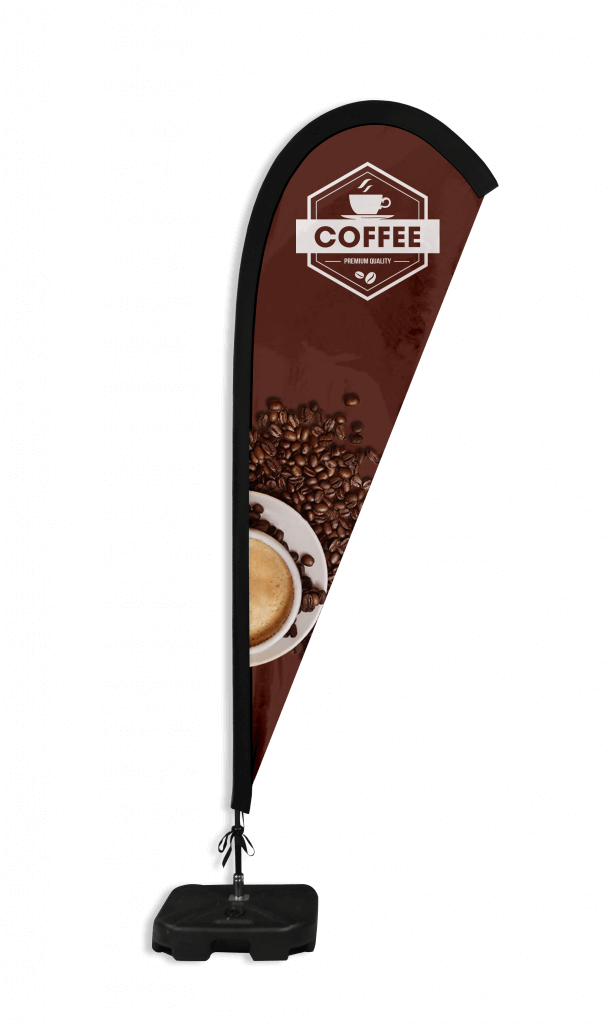 Positioning/siting
Flag life will be severely reduced if it is allowed to flap against an obstruction. Give the flag space to rotate clear of walls, fencing, trees/hedging, vehicles, etc.
Flying Banners are popular with the automotive sector in conjunction with a purpose designed wheel base. To stop the flag from being obstructed by the vehicle, and prevent any risk of damage to the vehicle, Signwaves offer simple conversion kits to make smaller flags compatible with taller poles so that the flags fly clear of the vehicle – both extending the life of the flag and improving visibility of the message.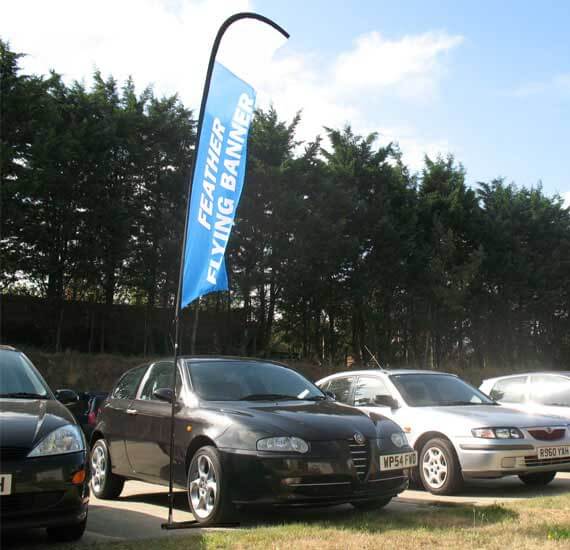 General Care/Good Practice
Take the Flying Banner (pole and flag) in at night if possible. This has a significant impact on the life of the flag, in theory extending it by the same number of hours it is not being used. It also protects the flag from any adverse change in weather conditions overnight. Quality hardware with push-fit pole to base spindle connection makes this a very quick process.
Bring the Flying Banner (pole and flag) in if the wind is in excess of 24mph (Beaufort 6).
To keep the image looking bright, and to stop airborne particles and contaminants 'setting' into the fabric, wash the flag (machine or by hand) as required with normal detergents as you would for other polyester fabrics.
Although the polyester fabric is tough and rot proof, avoid rolling the flag up and packing away if wet.
Check the tension in the flag looks about right (generally smooth across the whole flag surface) when securing the flag with the draw-string tether.
Good hardware will last for years but however well you care for your flags they will require replacing on a more regular basis, which is generally fine as the promotional nature of the product usually means graphic updates are required on a regular more short term campaign basis anyway.
Flags that are taken in at night and during bad weather should last for at least a year, and could last a lot longer, whilst a flag that is left out permanently cannot be expected to last for more than 6 months at best.