We're very proud of our continuous working relationship over three decades with Unilever Ice Cream – Wall's, HB, Carte D'Or, Ben & Jerry's, Algida, GB Glace, Good Humor, to name some of their global brands we have been trusted with.
The annual POS 'Visibility' contract for Wall's alone has regularly involved 10+ different products, many of those across multiple printed designs.
The majority of items are standard Signwaves products utilising our customisation service. Clever use of shape to enhance imagery and standout provides the illusion of something bespoke with the benefits of speed to market, lower risk and cost associated with a standard solution.
From assisting with field research, proposing new product and service solutions, to introducing alternative more environmentally friendly materials in support of The Unilever Sustainability Plan, added value service such as this goes beyond the traditional project management role but is something we relish in a long term mutually beneficial relationship.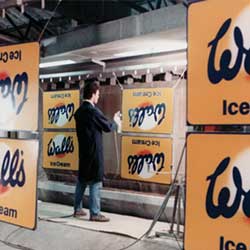 Our first order for Wall's ice cream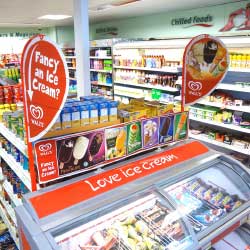 Freezer flags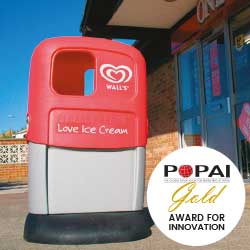 Award winning litter bin design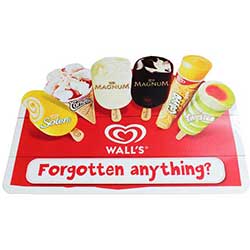 Custom Counter Mat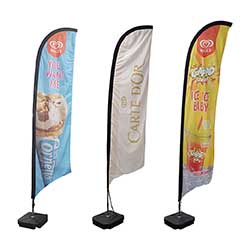 Flying feather banners
create awareness and interest through movement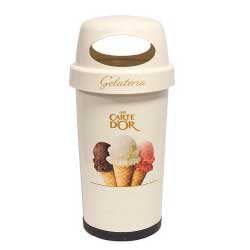 Stackable Eco-Litter bin
with a water fill base
design for stability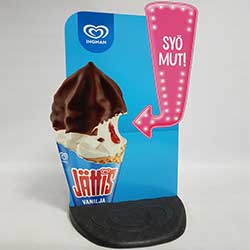 Ecoflextra for Ingman, a Unilever
ice cream brand in Finland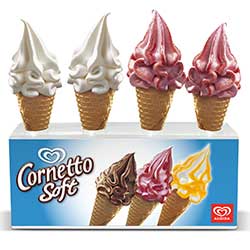 Ice cream cone holders
with Cornetto Soft
branding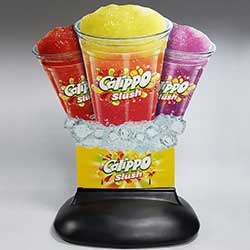 Calippo Slush POW! sign - true stand out signage that demands attention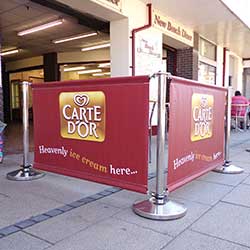 Adfresco cafe barrier system
for Carte D'Or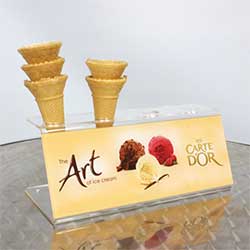 Clear acrylic cone holders
for Carte D'Or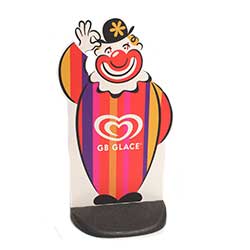 Ecoflextra featuring GB Gubben, the mascot for Unilever's Swedish ice cream brand, GB Glace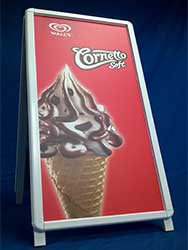 Bespoke A-Boards
for Cornetto Soft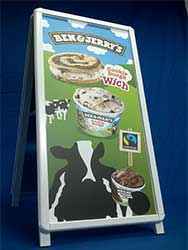 Bespoke A-Boards for Ben & Jerry's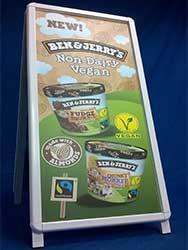 Bespoke A-Boards for
Ben & Jerry's
Non Dairy Vegan range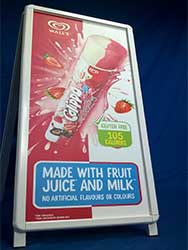 Bespoke A-Boards for Calippo Strawberry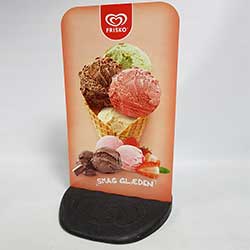 Ecoflex for Frisko,
one of Denmark's biggest
selling ice cream brands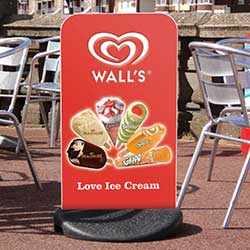 Ecoflex gives an uninterrupted artwork panel area
for artwork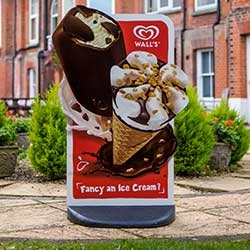 Shaped Ecoflex panels allow eye catching breakout shape designs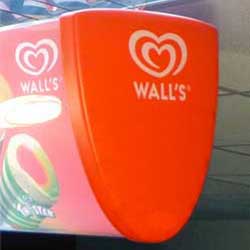 Freelight Plus with end cap branding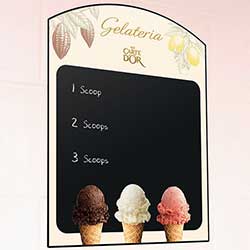 Carte D'Or Gelateria
HPL Chalkboards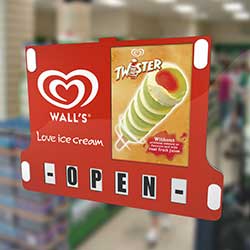 Open/Closed signs - a firm
favourite with retailers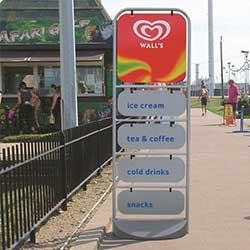 The Swinger Totem, utilised to
great effect by Wall's
Kiosk visibility - branding panel, flag and Flavour Boards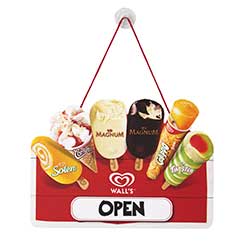 'Flipper' Open/Closed Sign