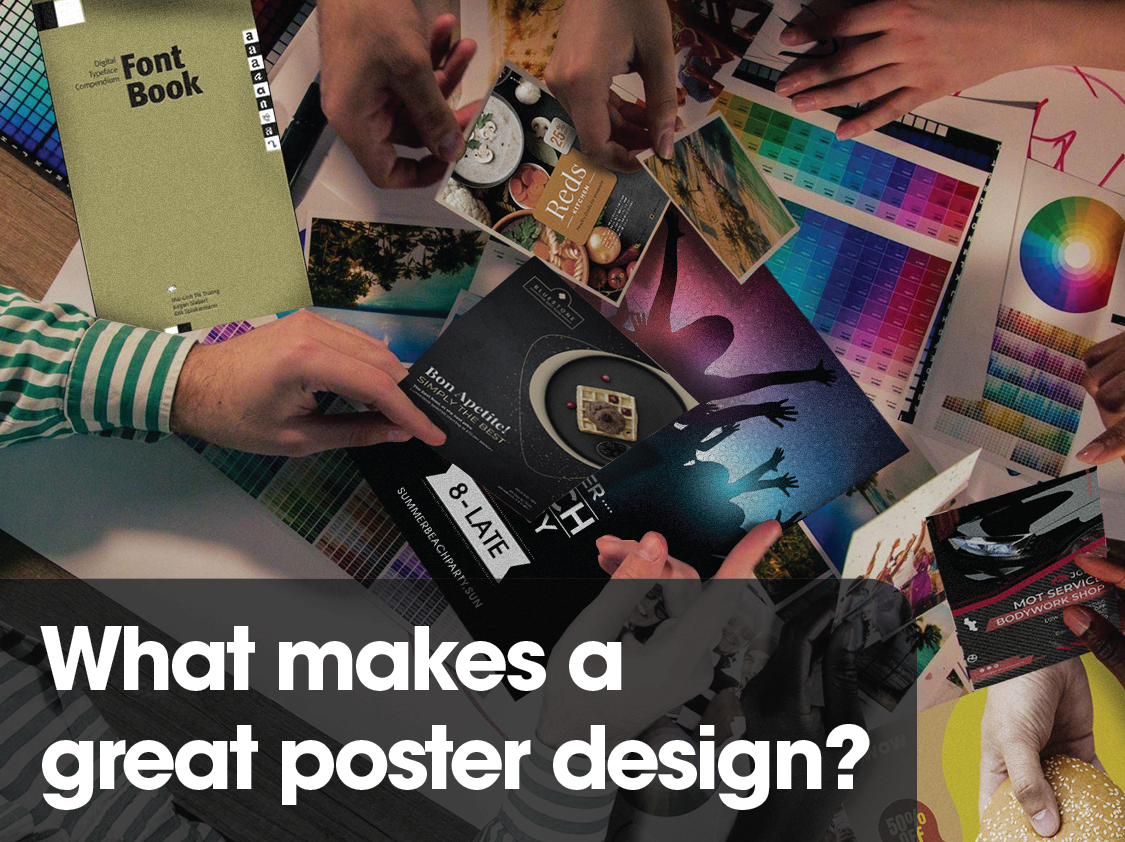 In today's fast-paced world, where digital advertising dominates the landscape, it's easy to overlook the power of traditional marketing methods. However, when it comes to capturing attention and conveying brand messages effectively, few mediums can rival the impact of a well-designed poster.
With an in-house team of experienced graphic designers specialising in business advertising, we have witnessed firsthand the transformative potential of eye-catching posters.
In this guide, we will share invaluable insights and practical tips to help you create posters that leave a lasting impression on your target audience.
Understanding the Power of Poster Design
In an age dominated by digital screens, it may seem counterintuitive to invest in poster advertising. However, posters still hold tremendous value in capturing attention and engaging customers. They offer a tangible, physical presence that digital ads often lack. Moreover, posters have the ability to reach a broad audience, making them an ideal choice for large corporations with extensive market reach.
Defining Your Objectives
Before diving into the design process, it's crucial to define your objectives. Start by identifying your target audience and understanding their preferences and motivations. This knowledge will guide your design choices and ensure that your poster resonates with your target audience. Additionally, establish clear communication goals for your poster campaign and align the design with your brand identity and values.
Planning Your Poster Design
A successful poster design begins with thorough market research. Study your competitors' posters, noting design trends and identifying areas for differentiation. This research will inspire fresh ideas and help you develop a unique concept for your own posters. Remember, while it's essential to stand out, your design must also align with your brand's personality and message.
Design Principles for Captivating Posters
Choosing the right colour palette:
Colours evoke emotions and play a vital role in poster design. Select a palette that aligns with your brand and evokes the desired feelings in your audience. For example, vibrant hues can convey energy and excitement, while pastel tones create a sense of elegance and tranquillity.
Typography:
The font choice is crucial in conveying your message effectively. Consider readability and legibility first and foremost. Experiment with different font combinations to find the perfect balance between aesthetic appeal and clear communication.
Utilising visual hierarchy:
Guide your viewers' attention through a well-structured visual hierarchy. Emphasise key messages and focal points through size, font, colour, and placement. By creating a clear flow of information, you will ensure that your poster delivers its intended message effortlessly.
Incorporating high-quality imagery and illustrations:
Images and illustrations can evoke powerful emotions and make your poster more memorable. Focus on high-quality visuals that align with your brand and resonate with your target audience. Use visuals strategically to complement your message and create a cohesive design.
Balancing text and visuals:
Strike a balance between text and visuals to maintain readability and visual appeal. Avoid overwhelming your audience with excessive information. Instead, focus on concise and impactful messaging that captures attention and encourages further engagement.
Crafting an Engaging Design
Establishing a focal point and visual flow:
Capture your audience's attention by creating a compelling focal point. Whether it's a striking image, bold headline, or unique design element, make sure it immediately draws the viewer in. Additionally, guide the visual flow by strategically placing elements to lead the viewer through the poster in a logical and engaging manner.
Creating a compelling headline and tagline:
Craft a headline that grabs attention and succinctly conveys your message. Pair it with a memorable tagline that reinforces your brand identity and entices viewers to take action. Remember, brevity and clarity are key.
Incorporating persuasive copywriting techniques:
Effective copy can significantly enhance the impact of your poster. Use persuasive language, compelling calls-to-action, and concise messaging to inspire action. Share testimonials or personal anecdotes that resonate with your audience, illustrating the benefits of your product or service.
Using white space effectively:
White space, or negative space, is the empty area surrounding your design. It provides visual breathing room and helps focus attention on key elements. Embrace white space to create a clean and organised layout that enhances readability and visual impact.
Selecting suitable poster sizes and formats:
Consider the context in which your posters will be displayed. Choose the appropriate size and format that best suits the advertising medium and the location where your target audience is most likely to encounter them. This will ensure maximum visibility and impact.
Testing and Measuring Success
Once your posters are out in the world, it's essential to track their performance and iterate based on the insights gained.
Conducting A/B testing for different poster designs:
Create variations of your poster designs and test them in different locations or demographics. Measure their impact and gather feedback to understand what resonates best with your target audience. You could conduct surveys or interviews, asking questions about their preferences and the effectiveness of each design. Use this data to refine and optimise future campaigns.
Tracking key metrics:
Establish key performance indicators (KPIs) to measure the success of your poster campaign. Track metrics such as engagement rates, foot traffic, or conversions. Why not try including a QR code on your poster that redirects to a unique landing page? Analysing these data points will provide insights into the effectiveness of your design and inform future decision-making.
Optimising poster designs:
Based on the data gathered, make informed adjustments to your poster designs. Experiment with different messaging, visuals, or layouts to continually improve their impact. Embrace a culture of continuous improvement to stay ahead of the competition.
Creating eye-catching posters for your business is an art form that requires a deep understanding of design principles, an empathetic approach to your audience, and a commitment to excellence. By following the insights and tips shared in this guide, you have the tools to make a lasting impact with your poster campaigns. Embrace the power of traditional marketing methods, and let your posters captivate your audience, driving brand awareness and fostering meaningful connections with your customers.
To find out more about how we can help you achieve all this and more, get in touch with our team today: https://www.signwaves.co.uk/contact-us