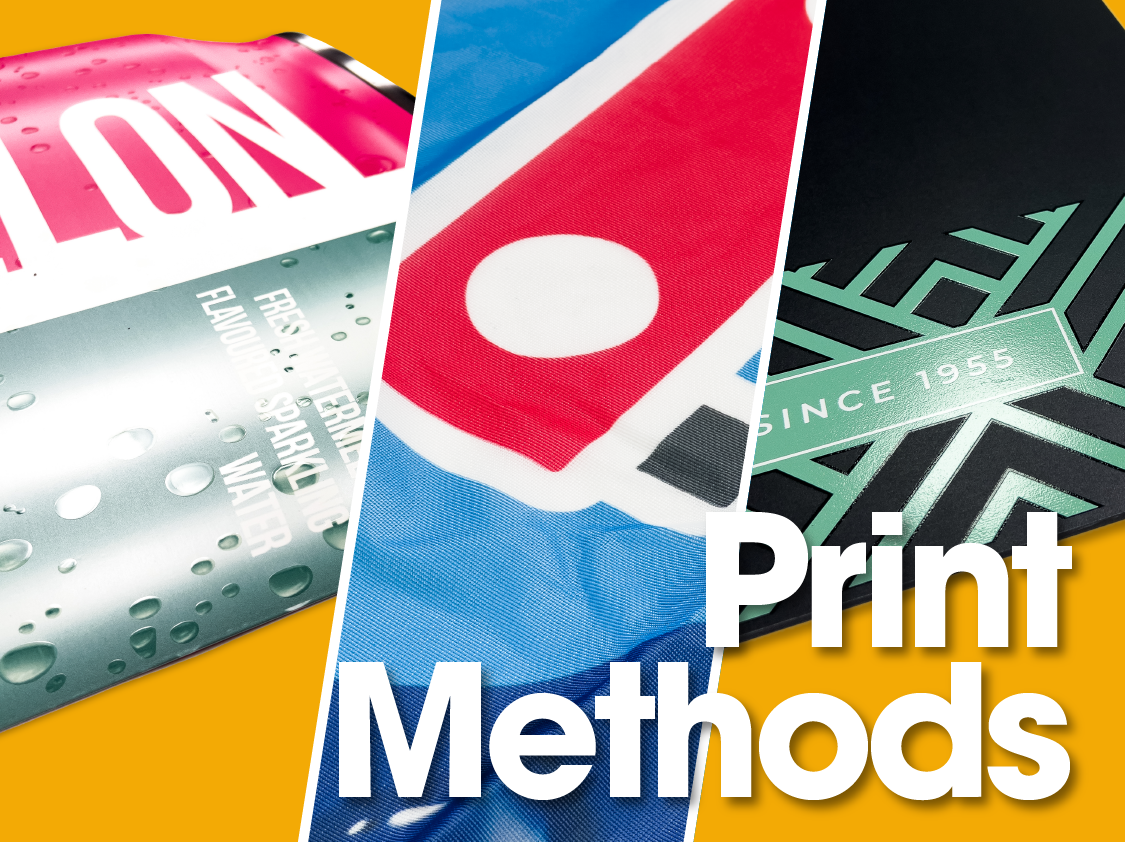 Creating the perfect signage to represent your business requires careful consideration and planning. You work hard to design your branded promotions and choose the right signage products to showcase your message - but what about the printing method? It's easy to overlook this crucial aspect, but choosing the wrong printing method (as a result of not having a reliable print partner to guide you) can have a significant impact on the final result. That's where Signwaves comes in!
Here are the key methods we provide in-house and some examples of the pros and cons depending on your requirements:
Digital Printing
This is a process in which a digital image is sent directly to the printer, which then uses a series of inkjet heads to spray tiny droplets of ink onto the print material. Whilst this might sound similar to the method used by your home printer, the technology in large-format digital printers today, and the results they are capable of producing, sets them far apart from anything you could replicate at home.
The "drop-on-demand" digital printing process is controlled by a computer, which determines the exact location and size of each ink droplet to produce the desired design. Combined with specially formulated inks the result is vibrant high-quality prints that can be applied to a wide range of rigid or roll materials.
The large flat-bed and roll-to-roll digital printers we use at Signwaves offer fast set-up and turnaround times. For longer runs on the flat-bed machines, where multiple precut sheets or panels are being printed on the bed at the same time, production speed is optimised by a "tandem" printing mode, providing continuous non-stop printing.
In truth, there will be few situations where digital print wouldn't be beneficial for your advertising signs and display products. The exception might be for longer print runs, in particular if these involve simple one or two spot colour designs, or if precise Pantone matching is required in a solid colour element on the print. In these situations screen printing could be for you!
Screen Printing
Screen printing has been around for hundreds of years, originating in China during the Song Dynasty (960-1279AD). The process of stretching silk (hence the term 'silk screen printing') over a frame to form a tensioned mesh, and then blocking out part of the mesh to form an image 'stencil' before ink is forced through the mesh to the print material below, changed very little over the centuries. It wasn't until the 20th century when nylon and polyester textiles replaced silk, and photographic film making techniques aligned with light sensitive screen emulsion coatings, brought about significant advances in stencil production and associated print definition output. With the introduction of image scanning devices able to separate a full colour image into its 4 (CMYK) component parts it meant screen printing could be used to print full colour (photo real) imagery for the first time.
Whilst advances in digital print technology over the past 20 years, and the print speeds and output quality that have come with it, has made the commercial reasons for screen print in full colour redundant, screen printing still performs an important function here at Signwaves.
Screen can be better when it comes to precise matching of spot Pantone colours because, unlike digital, inks are mixed to precise formulas and not made up from the limited ink range (usually CMYK) that digital printers are set up with. It is not uncommon for us to print a full colour element of an image using digital and use screen for an important solid colour pantone element such as in a customer's logo or branding.
For longer run print jobs involving one, two or maybe three simple spot colours, screen could be the recommended production route. The faster production times are likely to offset the relatively small origination and setup costs associated with simple spot colour designs and so can offer commercial advantages over digital in these situations. It is also very good for applying varnish over-print.
Varnish Over-Print
Although varnish is not essential, we often recommend it for outdoor signage for a number of reasons: It improves scuff and scratch resistance, adds protection from atmospheric pollution, it will help repel dirt and keep the print looking brighter for longer, increases resistance to chemicals and solvents, and it tends to enrich colour vibrancy and depth. It is usually a high gloss finish but doesn't have to be, and can be applied using screen or digital print methods. For a small additional cost it is generally a very sound investment.
The majority of protective varnish treatments (full surface coatings) are applied using the screen print process. It is superior to digital varnish because it applies a thicker coat – and is generally cheaper.
Digital varnish application offers the opportunity, at a cost, to introduce special effects. The ability to lay down multiple layers of ink, each one quickly cured by UV light, allows '3D' built-up elements to be added to a print. A stunning example, and probably my favourite, is adding condensation droplets to the outside of a drinks bottle or can, an eye-catching way to introduce brand stand-out to a premium point of sale display.
Dye-Sublimation (textile and fabric) Printing
Unlike other printing techniques that layer ink onto the surface, dye-sublimation forces the ink to penetrate into the material by use of heat – a heat fixation process. It is used widely and especially for textiles.
Dye-sublimation printing can use a paper transfer or a direct printing method. We use the latter at Signwaves which is better suited to flag production and for outdoor applications – the direct printing method (sometimes referred to as direct disperse) provides increased ink absorption which improves image show-through, durability and UV resistance. It doesn't produce quite such a crisp image as paper transfer but for large format graphics and soft signage viewed from distance this is not an issue.
In Conclusion
The world of print can seem overwhelming, but with the right partner, your business can achieve stunning results that capture customers' attention and deliver results. At Signwaves we have the experience, expertise, and equipment to help guide you to the right printing method for your unique needs, and deliver high-quality print that exceeds your expectations. Whatever your requirements, we've got you covered!
Don't let a subpar printing job ruin your brand promotions! Click here to get in touch with our team today to learn more about how we can help you create stunning signage that sets your business apart from the competition.