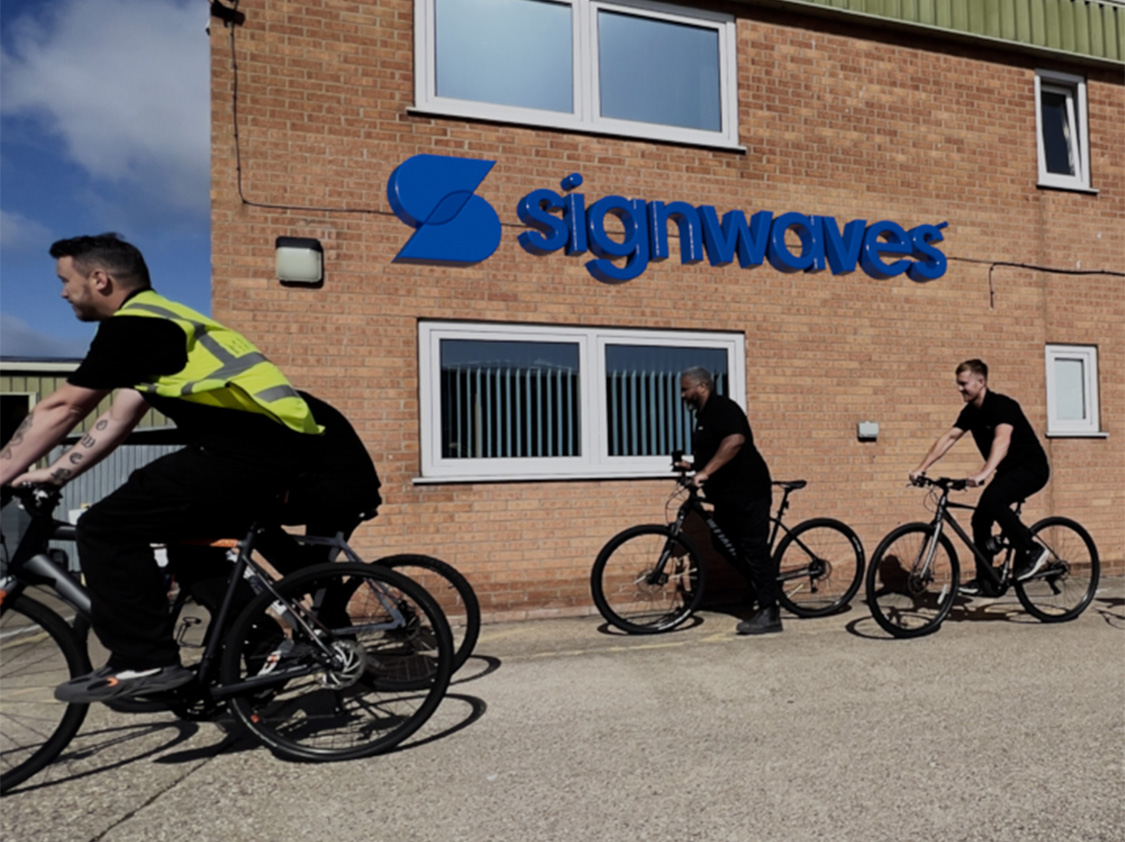 Sport mad Signwaves team brings competitive spirit to sign making
Advertising sign and display experts, Signwaves, believe their employees' passion for sport is benefitting their business as an industry-leading manufacturer.
With a workforce of over 65, many of the Norfolk-based company's team play or participate in regular sport and fitness.
Signwaves believes that the competitive nature of sport - and striving to exceed their 'personal best' - has helped their colleagues perform at work too.
"Just like good manufacturing, sport and fitness are about teamwork and continually striving for improvement. As our colleagues push themselves in their chosen activity, we've seen similar positive gains in our operations" says Harry Ford, Sales & Marketing Strategy Manager at Signwaves.
In support of Signwaves' experience, scientific researchers have found that participating in sport can have a significant positive effect on morale, motivation and productivity within the working environment.
"When our favourite sports team wins, we feel good and it's easy to spot a similar boost when our colleagues play well or achieve their own goals. That positivity soon spills over into our working day" adds Harry.
With such a beneficial impact on personal health, Signwaves is keen to encourage members of their team to pursue sport and fitness.
On the recent National Cycle to Work day, a number of the team, including both keen cyclists and those who rarely ride, took to their bicycles to commute to and from Signwaves' headquarters in Great Yarmouth.
Widely regarded as one of the UK's toughest parkruns, Commercial Assistant, Joe Liddament, has run the Great Yarmouth event more than 50 times and completed the March 2023 Great Yarmouth Half-Marathon in under two hours.
Another of the regular parkrunners at Signwaves is Customer Service Advisor, Jane Middleton, who is preparing for an ultra-marathon where she will run 50km along the Weavers' Way, finishing at Cromer Pier in Norfolk.
"I'm an avid parkrunner and can honestly say it has changed my life as I am fitter, healthier and have made lots of new friends. It's all about winning 'tin and ribbon', though many medals are wooden now for sustainability!" says Jane.
Sport mad Project Manager, Katie Gedge, has enjoyed running, playing badminton and competing at county level in basketball. However, her greatest passion is hockey.
"I've been part of Loddon Hockey Club for more than 30 years as my mum was one of the first members and my dad was an umpire. I've been team captain for 15 years and taken the first team to their highest ever league level" says Katie.
For Purchasing & Costing Coordinator, Kelly Jones, her love of sport is now enjoyed through her children:
"With karate Monday and Friday, football Wednesday and Thursday, swimming Tuesday and football games and Junior parkrun at the weekend, I'm always on the sidelines somewhere cheering on my sport-mad sons!" says Kelly.
Sport and health have always been part of the ethos at Signwaves, both by encouraging staff to take part and supporting Sportability, a charity providing access to sport for people with disabilities.
"Our team are not only very keen on sport but passionate about signs and displays too. And, when the opportunity came to combine both by producing advertising signs and display products for Sportability, our colleagues' enthusiasm was plain to see" concludes Sales & Marketing Strategy Manager, Harry.
Since 1989, Signwaves has designed, manufactured and printed advertising signs, supplied both through trade resellers and directly to leading brands including Shell, Just Eat and Unilever.
Signwaves' products range from the UK's top-selling swinging sign, to their Adfresco® café barrier system and are chosen by businesses across the UK and further afield.
To discover more about Signwaves products and services, visit: www.signwaves.co.uk