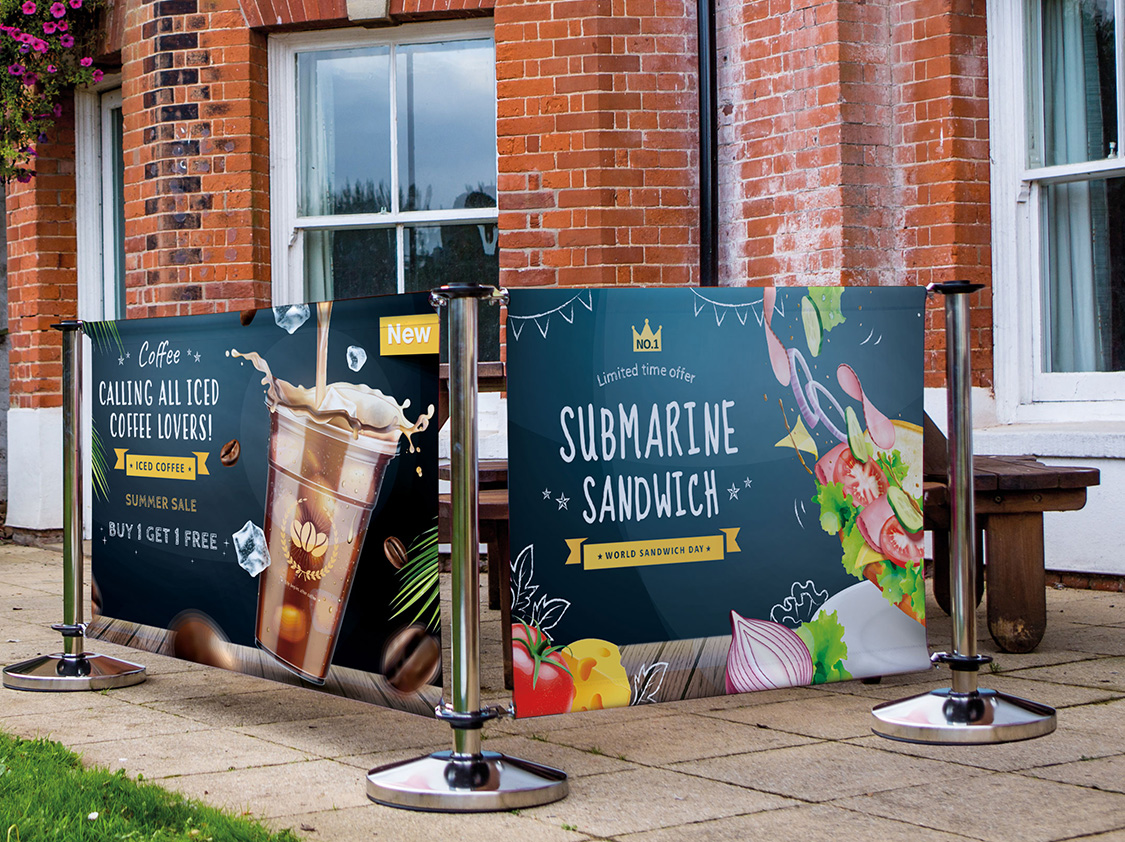 Advertising sign and display experts Signwaves, have reported demand levels are higher than expected for their products widely used to support outdoor dining.
The Norfolk-based manufacturer believes the government's permanent change in pavement law has seen even more hospitality and leisure businesses creating opportunities for customers to enjoy food and drink 'alfresco'.
Following temporary relaxation during the pandemic, a permanent law change now allows more pavement licences which permits cafés and other businesses to seat customers outside, full-time.
As a result, demand for products including Signwaves' Chalk A-Boards, Classic Garden Parasols and Adfresco® Café Barriers have risen.
In 2020, demand for our patented Adfresco® café barrier system increased by more than 75%, as cafés, bars and restaurants sought to safely serve customers outside. Demand for this and other products have remained above pre-pandemic levels as the UK gets used to outdoor café culture!" says Harry Ford, Sales and Marketing Strategy Manager at Signwaves.
The change in rules comes as a result of reports demonstrating the positive impact outdoor dining has had on the UK economy.
Through utilising outdoor spaces, restaurants and other hospitality businesses can increase their capacity and serve more customers. This can lead to a significant increase in revenue, which is critical for small and independent restaurants and cafes in particular.
In addition, it has been reported that outdoor dining can significantly improve customer experience, especially in the hotter months as customers often enjoy eating in a more relaxed atmosphere outdoors.
"People love to dine outside whenever possible, so it's great to see the benefit it's having on the economy. With seating arranged outside on pavements, it's easier than ever to display your offering to potential customers, especially with our popular Adfresco® café barriers and branded parasols" adds Poppy George, Marketing Manager at Signwaves.
For over 30 years Signwaves has designed, manufactured and printed sign and display products supplied directly to leading brands and retailers such as Shell, Just Eat and Unilever, and to smaller businesses through trade resellers.
Signwaves products range from outdoor swinging signs to indoor poster displays and are chosen by businesses to help promote products and services.
Recent demand has been particularly high for their Adfresco® Café Barriers which help section off seated areas whilst promoting the business or brands on offer.
"It's great to see the government supporting the hospitality industry. After such a successful year for outside dining last year, we're hopeful 2023 and 2024 will be even better. And, we've an ever-growing range of indoor and outdoor signs and displays ready to support them" concludes Harry Ford.