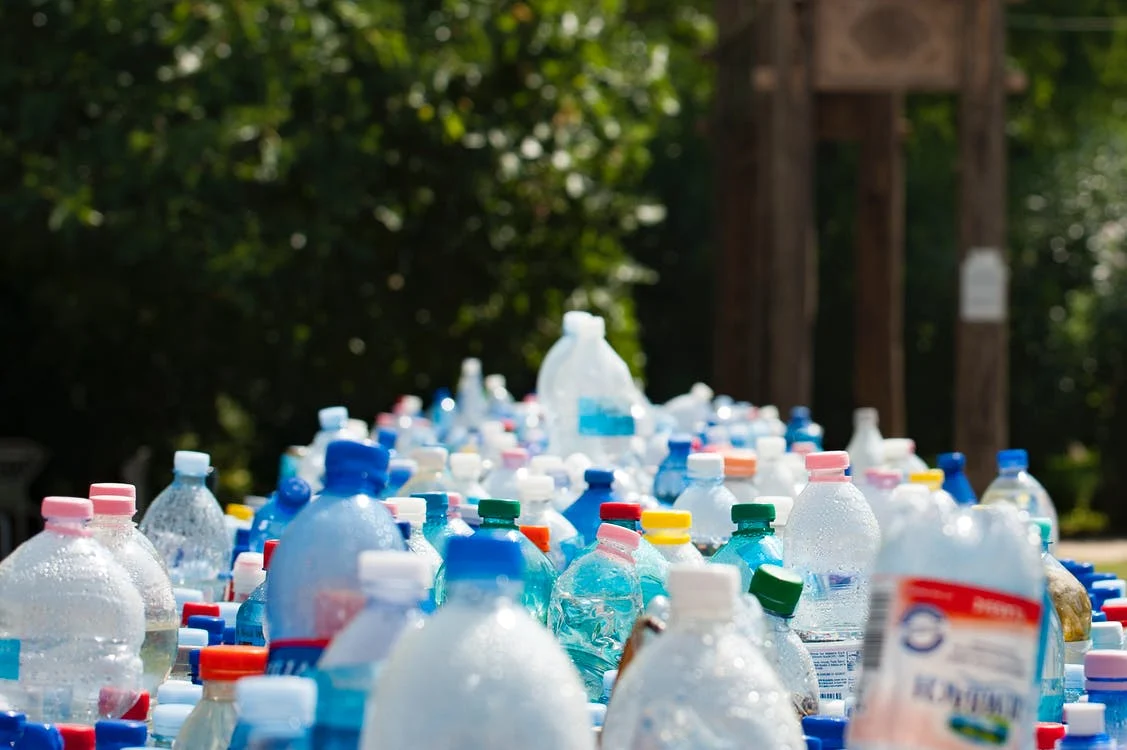 Plastic waste and recycling is a really hot topic right now, for manufacturers, retailers and consumers alike. The UK Government has called for a ban on plastic straws, drink stirrers and cotton buds in a bid to eliminate avoidable plastic waste by 2042, and many companies are introducing alternatives in response to this, such as a new material called REPA – A 100% biodegradable, non-toxic material that is made from ground seashells. REPA is being touted as perfect for use in large commercial and catering establishments looking for eco-friendly alternatives to harmful disposable plastics.
There are also alternative straw materials on the market, including metal, glass, wheat, bamboo, marine-degradable lolistraws (edible) and of course, paper. Some 8.5billion plastic straws are thrown away in the UK alone every year – a staggering amount that is proving almost impossible to keep out of our seas and overflowing landfill sites. To put the issue in context, single use plastic waste in the UK in one year alone is enough to fill the Royal Albert Hall 1000 times over.
Evidence shows however that the recycling rate by councils has actually fallen over the past five years, and that the UK is likely to miss its target of recycling 50% of household rubbish.
As manufacturers dealing with plastic on a daily basis, and as people who rather like our planet, we're acutely aware of the issues, and so we caught up with our Creative Director, David John, to learn about what Signwaves is doing on the issue, and what a more plastic conscious future will look like.

Interview with David John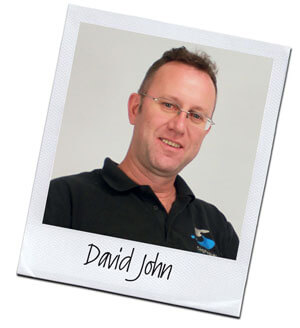 Hi David. When we're talking about signage, how does plastic play a part in sustainability and being eco-friendly then? Isn't that a contradiction in terms?

Plastic can provide a very valuable contribution to sustainability when it is used appropriately. Where possible we look to use plastics that are already a recycled material and ideally recyclable in the future if needed. Selected plastics can fulfil this very well. Recyclability is a principle of eco-design that runs alongside the use of low impact materials, weight reduction and transport-volume reduction for any given design.
Similarly we also look to design in longevity through the careful choice of materials used in sign products; so built to last, and often maintenance-free for life.
What does Signwaves currently recycle and crucially, how much of it?
We recycle Aluminium, PET, Polycarbonate and PVC in our daily production. We had an early uptake in using recycled materials dating back to 1996 through the production of PVC sign bases for The National Lottery. In fact some 4,200 tonnes of recycled PVC have since been used across our products – that's the weight equivalent of 550 African elephants! So a significant amount of material is being diverted away from a land-fill destination by clever, eco-based design.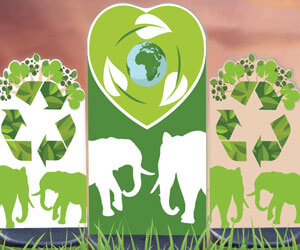 When the 5p carrier bag charge was introduced in 2015, retailers reported that there was an 83% drop in plastic bag use. Do you think that the proposed plastic ban surrounding straws, stirrers and cotton buds will glean similarly positive results?
The ban should force design change rather than reduce sales. However there is a strong appetite now to avoid unnecessary pollution from obviously inappropriate design. All the items mentioned here could easily be substituted by organic biodegradable alternatives. Wet-wipes also belong on that target list…ask any plumber or drainage technician about the man-hours lost to wet-wipes!
Producers will ultimately be lobbied, legislated, or shamed into delivering better. It is unfortunate that they have to be prompted and could not have addressed the issue themselves right from the outset. It would have avoided the tideline common to most beaches, typically now being measured in 'cotton buds per metre'. Action on this has been long overdue.
Much has been said about China no longer taking the rest of the world's waste for recycling (the Chinese government imposed a plastic ban on 1st January 2018, marking the end of taking yang lahi or "foreign garbage") Do you think this will have any impact on design for signage moving forward?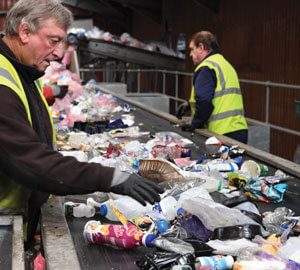 This has been a sudden step change for many businesses, however I believe it will be a catalyst to develop a more evolved approach within the UK in the medium to long term. A thriving market already exists to use mixed-plastic waste as an ecological alternative to wood. Product output includes picnic benches, boardwalks, decking, seats and street furniture. In these applications the plastic alternative will often out-perform and out-last the original timber designs.
The UK generates 3 million tonnes of plastic per year, of which only 7% is currently recycled; clearly there is opportunity to improve on this and a lot of work to do. Additionally, there is a need to further develop recycling facilities in the UK. The EU itself has an agenda to make all plastics recycled by law in the next 23 years, and that sets the benchmark regardless of Brexit.
Should companies care whether their signage is recyclable or not?
Absolutely, all companies really should care about sustainability as a whole. Signage, like other products, can be an element of an organisation's overall carbon footprint.
Consideration should go as far as the compact packaging for distribution and 'End of Life' breakdown (the ease with which a sign can be separated down into its core components at the end of its service life). This ease of separation invites efficient recycling. This is something that we always factor into our sign designs at the outset for carbon footprint advantage.
Sustainability merit also lies in the overall quality of the product. I'm a big believer that:
'It is probably the most effective form of sustainability that a product performs well and lasts longer.
A product might be labelled as the most sustainable in terms of material choice, but if it requires replacing prematurely, it will have failed.'
The Ecoflex is billed as being completely recyclable at end of life – can you talk us through that?
Ecoflex signs comprise an aluminium display panel and a recycled plastic base, a patented fastener anchors the components together for the working life of the sign which can be many years. At the end of life, the display panel can be separated from the base in a matter of seconds allowing the aluminium to be reclaimed. The plastic base material is also 100% reusable towards future mouldings.
It feels like the tide is turning on plastic waste, with the UK Government also proposing a 25p "latte levy" on takeaway coffee cups, and stores such as Ekoplaza in Amsterdam having introduced a "plastic free aisle". Do you think the way we shop will change in the future?
This is finally rising to the surface now. Packaging design to date has been more for the convenience of the retailers. Most consumers are quite receptive to having alternate eco-friendly packaging along with wonky carrots and perfectly imperfect apples, it is not a big step of logic to even then bring along your own containers.
It seems there is a ground-swell reaction now to get to a better place. Iceland have certainly 'thrown down the gauntlet' with their pledge to go plastic packaging free by 2023. Hopefully this will set a precedent to others. As 35% of all plastic waste comes from packaging, this type of initiative could make a profound difference.
What is best way then to get to a better future?
The answer rests in the intelligent use of all materials, not just plastics, this starts with channelling the resources to most effect upstream of a crisis point.
Some broader examples and opportunities;
Developing independent solar-panel-based power supplies, already proving a beneficial appropriate technology for those off-grid and previously being restricted to daylight hours.
Expand the use of pre-fabricated housing with the benefit of 21st century technology. 'Bricks and mortar' is a slow labour intensive technology and has no chance of keeping up with future population demands…it is so last century!
Create more reservoirs, water will be a key resource of the future.
To produce more bicycles and less SUV's - that might get things off to a healthy start!
It is good now that there is some impetus gathering to achieve better, actually it is imperative, and as President Macron recently announced…there is no 'Planet B'!

Many thanks to David for the interview. Please see individual products on our website for details of the recyclability of all our products.