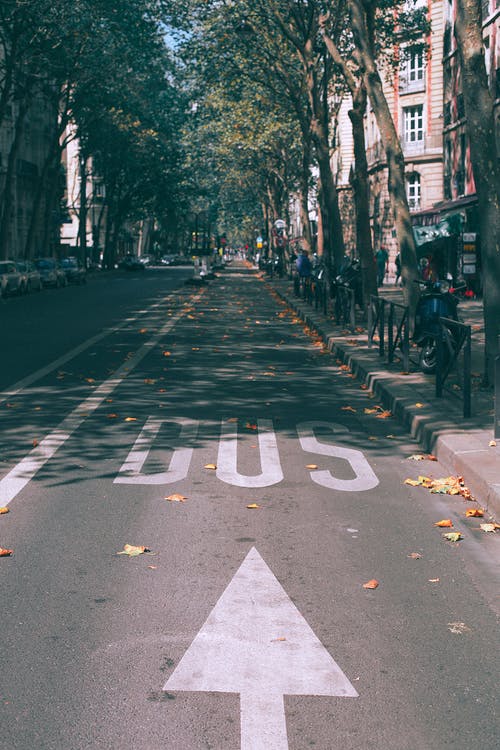 We know pavement signs attract customers but do you know the guidelines on using them on the high street?
As with all signs, it is important that you consider the local council legislations which surround it.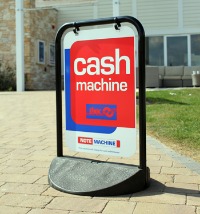 With pavement signs and A-boards such as the Swinger being one of our most popular selling products, we know they can be used to tempt customers into your premises and encourage them to look at, and purchase, products or services they would usually not have considered. This popularity means that in the UK, local authorities need legislations to maintain keeping the pavements safe for pedestrians.
No straightforward answer can be given as to what permission you need to display your pavement sign as there are many different factors to consider, the main one being location. Some councils will require you to have a licence, which can be applied for online, to display a pavement or street display in England & Wales, however others request written permission for putting out pavement signs. Find out quickly and easily here, with just your postcode, who to contact when applying for a licence.
We must be conscious of the 'five standard conditions' that can be applied to all professional adverts and signs for businesses, including pavement signs, which means they must:
Be kept clean and tidy.
Be kept in a safe condition.
Have permission of the owner of the site on which they are displayed (including Highway Authority if the sign is to be placed on highway land).
Not obscure, or hinder the interpretation of, official road, rail, waterway or aircraft signs, or otherwise make hazardous the use of these types of transport.
Be removed carefully where so required by the planning authority.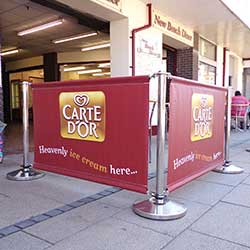 If you've got your own forecourt outside your premises, have you considered our patented design Adfresco Cafe Barriers®? Tables and chairs outside creates the perfect summer dining experience and our barriers form the perfect opportunity to advertise on the large graphic area. When using these, remember that you may need to apply for a pavement licence, depending on your location.
In the highly unlikely event that you find yourself unable to use one of our high quality pavement signs or our Adfresco Cafe Barriers®, panic not, we have a solution! Our low cost, high impact flange signs are available in round, oval or rectangular and have an outdoor life of over 5 years. Wall mounted, these signs provide maximum visibility from
a distance and can be custom shaped to bring your company graphics to life.
Read the rules and reap the benefits of this low cost traditional advertising!