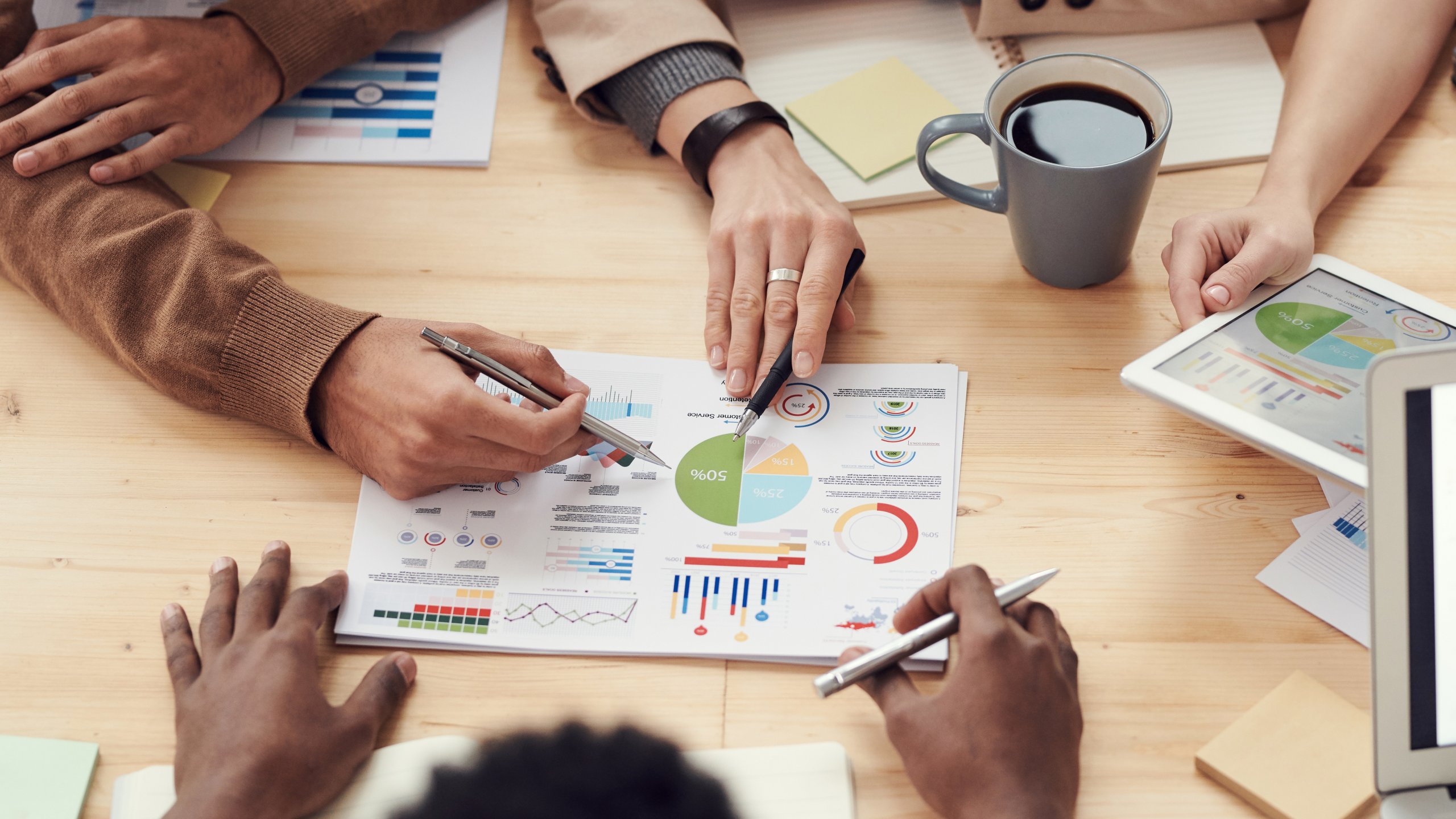 A year that many are calling "unprecedented" has required business owners all over the world to adapt more quickly and efficiently than ever before.
A notable gulf soon appeared between those that we now call the winners and those we call the not so successful of 2020, but is there a clear pattern? Are there future-proof rules that business owners will now be able to apply to ensure their business stays afloat in what we will one day call our new normal? In truth, the results aren't too surprising…
At first glance, results from numerous sources may not present an obvious trend at all. As an example, let's take a look at data from an article dated 30th September 2020 by Retail Week: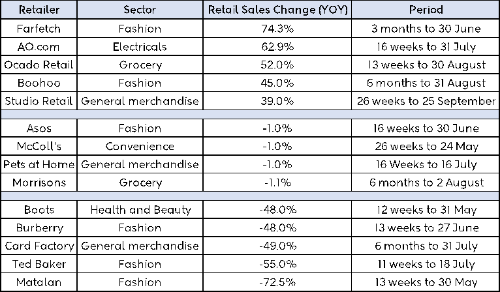 Here we have 3 performance categories - the top 5, the more or less unchanged, and the bottom 5 business performers based on year-on-year change in sales. As you can see, there's no point trying to determine the successful sectors. Fashion and General Merchandise appear in all 3 categories and Grocery in 2 out of 3.
So what is it that separates them? In an article titled 'Gap between retail winners and losers widens to a chasm' in the Financial Times on 23rd May 2020 it states:
"It is unsurprising, too, that companies without much real estate have been gaining favour. AO World, an online-only white goods retailer that was able to pick up business lost by hobbled rivals such as Dixons Carphone, is the sector's top performer over the past three months, with a gain of more than 50 per cent. Shares in Dixons have nearly halved over the same period."
While it may not be down to something as simple as your real-estate footprint, rather predictably, those businesses with a strong e-commerce presence seem to be weathering the storm far more effectively than those relying on high street footfall.
Our top 5 performers did have at least one thing in common, that being their conception as e-commerce businesses - rather than traditional bricks and mortar retailers with an online shopping bolt-on. Surely though, there must be hope for those who weren't born into the right sector?
The popular opinion is that business owners need to focus on a whole lot more than merely surviving the pandemic. An article by Forbes dated 30th October 2020 titled "5 Essential Planning Tips To Help Your Business Survive The Pandemic" suggests the key 5 elements to consider are:
Strategic approaches

Strive to be a low-cost provider
Have higher quality services or products than the competition
Focus on a narrow market niche

Marketing

Focus particularly on your strongest performing platforms or strategies for budget efficiency

Alliances

Viable growth option for small businesses
Improve market access
Always keep communications with potential alliance partners open

Finances

Maintain up to date finance and budget plans
Explore government assistance program availability and apply as soon as possible

Employees

Your most valuable asset
Consider any changing requirements for new skill sets

Whilst that may serve as more of a general overview, the latest Annual Manufacturing Report by PWC offers some interesting insights into this specific business sector: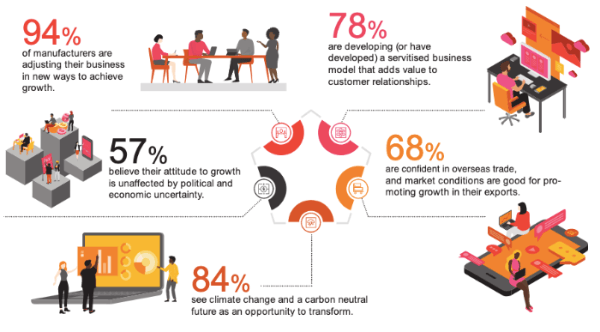 It would be difficult to ignore the statistic showing 94% of manufacturers adjusting their business in new ways to achieve growth. How exactly has the pandemic affected the sector in order to justify this response?
A large research study on industry trends was recently conducted by Alexander Group and was discussed in an article featured in Industry Week on 22nd October 2020. As part of the study, responses from over 100 leading manufacturers regarding Covid-19 impact, digital and market trends were collated.
Firms have to learn to operate in an uncertain environment. Priorities are more focused on protecting their current client base, creating a safe working environment for employees and designing contingency plans for future economic instability.
Amongst almost every other sector, the manufacturing industry has invested in and heavily leveraged digital enablement tools to enhance interactions with existing and new customers. Remote work is becoming the norm and there has been noted success in virtual selling.
The study also suggested 6 trends to implement for 2021 growth:
Adapt to new customer preferences

Participants indicated that digital enablement is their top commercial priority, but less than one-fifth saw their organisations as effectively implementing digital tools and sales channels.
Top firms are investing nearly double the amount of their competitive peers in digital enablement tools, training and e-commerce platforms.

Optimise a go-to-market approach for new and strategic offerings

Customer budgets may be restricted, but their need for new products and services remain.
"XaaS" (anything as a service) first emerged in technology and software sales and is now gaining a foothold in the manufacturing sector. This can reduce the strain on the customers' budget while creating recurring revenue for the business.

Integrate marketing, sales and service

80% of respondents feel that "customer persuasion" now spans these 3 functions of a business and that they cannot operate separately.
Successful companies are using account-based marketing (ABM) armed with data analytics and actionable insights to gain more value from traditional marketing functions.

Evolve direct and indirect channel strategies

Face-to-face customer contact is diminishing.
Approximately 20% of manufacturers have their own e-commerce channels, while others are prioritising distributors with full online capabilities.

Align talent and compensation to growth strategy

Despite economic conditions, firms still find themselves competing for exceptionally talented, digitally proficient employees.
As companies turn to e-commerce and virtual engagement, they search for digital and technical specialists to fulfil emerging roles.

Invest in Revenue (Sales) Operations

New sales operations teams are enabled – often with marketing – to drive digital seller effectiveness and customer engagement.
Examples of these operations are sales compensation management, business reporting and insights, or enablement tools.
Maybe the main take-away from all this is simply the application of common sense. One of the new buzz-terms of 2020, "new normal", strongly indicates that it is no longer sufficient to stick to your guns and rely solely on the historically tried and tested. In a small number of years, we'll be looking back (hopefully) on this "unprecedented" era celebrating those businesses which saw the pandemic as an opportunity rather than a crisis and were able to adapt, evolve and grow in new and innovative ways.
Signwaves plans to be one of them!