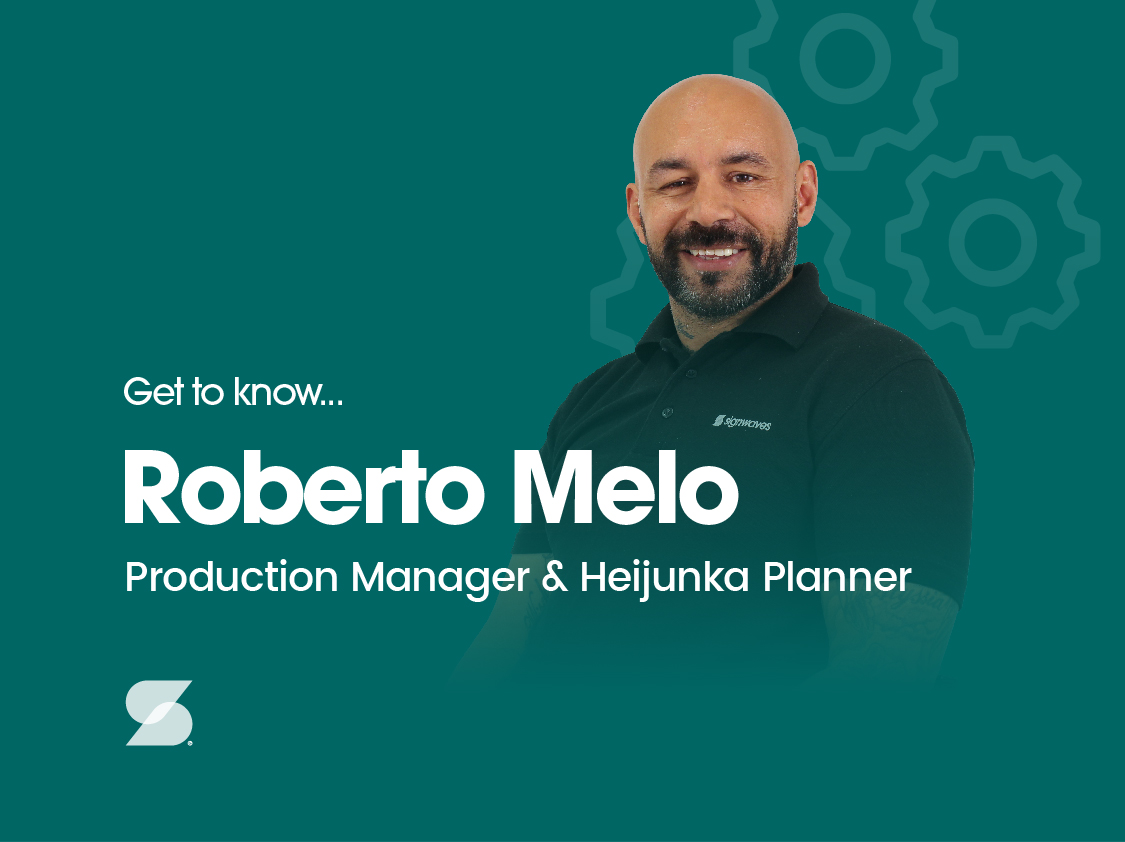 Way back in 1999, I joined Signwaves as a sign technician. I owe this career opportunity to a friend who put in a good word for me and helped me get the job. I started on the "finishing" shift, which was a standard arrangement for the Production team due to space constraints at the time. It's incredible to think how far my journey with Signwaves has come since then!
I later joined the assembly team and became part of a sub-team of three. This involved creating custom signs for a big customer whom we still deal with regularly to this day! Although we no longer produce these particular signs, I have very fond memories of my time working with that close-knit team; especially with my mentor, the great Carl Blaza! (I'll see if I can convince him to share his Signwaves story in a future instalment!) Unfortunately, in 2003/04, I had to leave Signwaves due to personal reasons, which concluded my first - but not last - stint with the company.
After 4 years working elsewhere, having gained a Level 3 NVQ in Team Leading, I rejoined the assembly team at Signwaves in August 2009. My new experience as a team leader sparked a passion in me to be more involved behind the scenes and contribute to the smooth running of production. So when the opportunity to take on more responsibility as a team leader arose just a year later, I didn't hesitate to apply.
Around that time, the company embarked on a transformative journey of "Lean Manufacturing." It was a significant learning curve for all of us, with ups and downs, but it has undoubtedly strengthened Signwaves. The principles of lean manufacturing still play a crucial role in our operations today, and I found the entire process to be incredibly rewarding.
Since becoming Team Leader in 2010, I've embraced the various tweaks to my role with enthusiasm. Change is inevitable in life, and I firmly believe in embracing it rather than resisting it. Currently, I serve as the Production Manager and Heijunka Planner. As the Heijunka Planner, I coordinate all production staff and use the Heijunka Board, a visual management tool, as part of the Planning team. I've been doing this for a decade now, and it has proven to be an excellent way to manage schedule fallouts while providing the Production team with a clear view of their daily workload.
My current role is truly unique as it involves a 4-month rotation between Heijunka Planning and various Production Manager responsibilities. This setup allows me to work closely with the Production team every day. I view my role as a facilitator, constantly seeking ways to support my team in achieving their best possible results. I take immense pride in the team's efforts to refine our processes over the years. While there's always room for improvement, we have come a long way and are starting to see the rewards of our hard work.
These are some of the key work characteristics that I feel best define me:
Process management - I strongly believe in questioning the system before questioning people. I understand that helping the team achieve their best requires improving the system to reduce human errors.
Importance of standards and procedures - I continuously strive to raise standards and emphasise the importance of following procedures. Deviating from them can lead to issues, so leading by example is crucial.
Training and mentoring - When it comes to training, I focus not just on the "what" but also on the "why." By explaining the reasons behind tasks, I enable better understanding and growth within the team.
Thoroughness and diligence: I take pride in being meticulous and diligent in everything I do. Paying attention to detail is essential, as it helps prevent simple issues that could otherwise cause problems.
Enough about work… here's a little bit about my hobbies and interests!
I was born in Great Yarmouth and spent my first 10 years there before moving to Northampton. After finishing school, I returned to Yarmouth, where I've been ever since. My priority is spending time with my three wonderful children - two daughters, aged 22 and 15, and a 19-year-old son. As they've grown older, they enjoy doing their own thing, giving me more opportunities to travel with my partner, Sandra. Holiday time has become something we cherish. I've learned that life truly begins at 40, which means I'll be turning 5 in January 2024!
Another passion of mine is listening to live music; you'll often find me in a bar, enjoying local singers or bands while having a little dance too! Bob Marley has been an idol in my life, and his music, combined with my mother's influence, has shaped me into a philosophical person. Although she's no longer with me, I find inspiration in Marley's music, which recently came alive in the "Get Up, Stand Up" tribute musical in London. The show beautifully portrayed his life through his songs, and I couldn't help but dance along. I also enjoy musical theatre and had a wonderful time watching the Tina Turner musical last year, honouring another great artist. I have a versatile taste in shows, and one of my favourites is Les Misérables, which captivated me with its story about the French Revolution.
I have always loved sport from a young age. One of my earliest and proudest school achievements was winning the 400m sports day race at 7 years old, held at the local athletic track. In middle school, I had the incredible opportunity to be part of the "Cadbury's Mini Champions" team. We competed against other schools in various sports, including football and unihock, in mixed boys and girls teams. Besides the joy of playing sports, the best part was receiving free Cadbury chocolate after each competition. As a child, this was a fantastic incentive, and the more we won, the more chocolate we enjoyed!
Following a family move to Northampton, I discovered basketball and was proud to be part of a school team that reached the last 16 of a national competition. Representing Northampton County earned me a special school tie with the county badge, and I even received the "Most Valuable Player" award for a season. However, after returning to Yarmouth, I shifted my focus to football, which became my true passion. I played for Gt Yarmouth Town in the Thurlow Nunn League and Acle FC in the Anglian Combination. To my delight, both clubs paid me for my services, providing some extra beer money for Saturday nights! My football journey also led me to represent The Anglian region in a national competition and even play for the local police force in a midweek league, as some of the officers were part of my Sunday team as well.
After injuries halted my football playing days, I found a new passion in coaching when my son joined a team at the age of 8. I spent around 8 years coaching youngsters from U8 to U16, which brought me immense joy and fulfilment. During this time, I pursued various FA-regulated coaching courses, including FA Level 1 and Youth Modules 1 & 2, enhancing my skills and knowledge. Coaching taught me the importance of adapting my approach to each individual, recognising different learning styles, and fostering teamwork and communication. Beyond football skills, I aimed to instil essential life skills like dealing with setbacks, building confidence, and committing to the team's cause. Moreover, I stressed the significance of physical exercise not only for physical well-being but also for mental health. Coaching was a rewarding journey of continuous learning, and I cherished every moment of it.
Although I miss coaching, I now have more time to focus on my well-being, and I make it a priority. I've embraced a health-conscious lifestyle, heading to the gym 5-6 times a week. For me, exercise isn't a chore; it's a necessity and an integral part of my weekly routine. Staying active not only improves my physical health but also boosts my mental well-being, providing a better quality of life as I age. I genuinely feel better, both physically and mentally, and I'm committed to maintaining this lifestyle for the long haul!