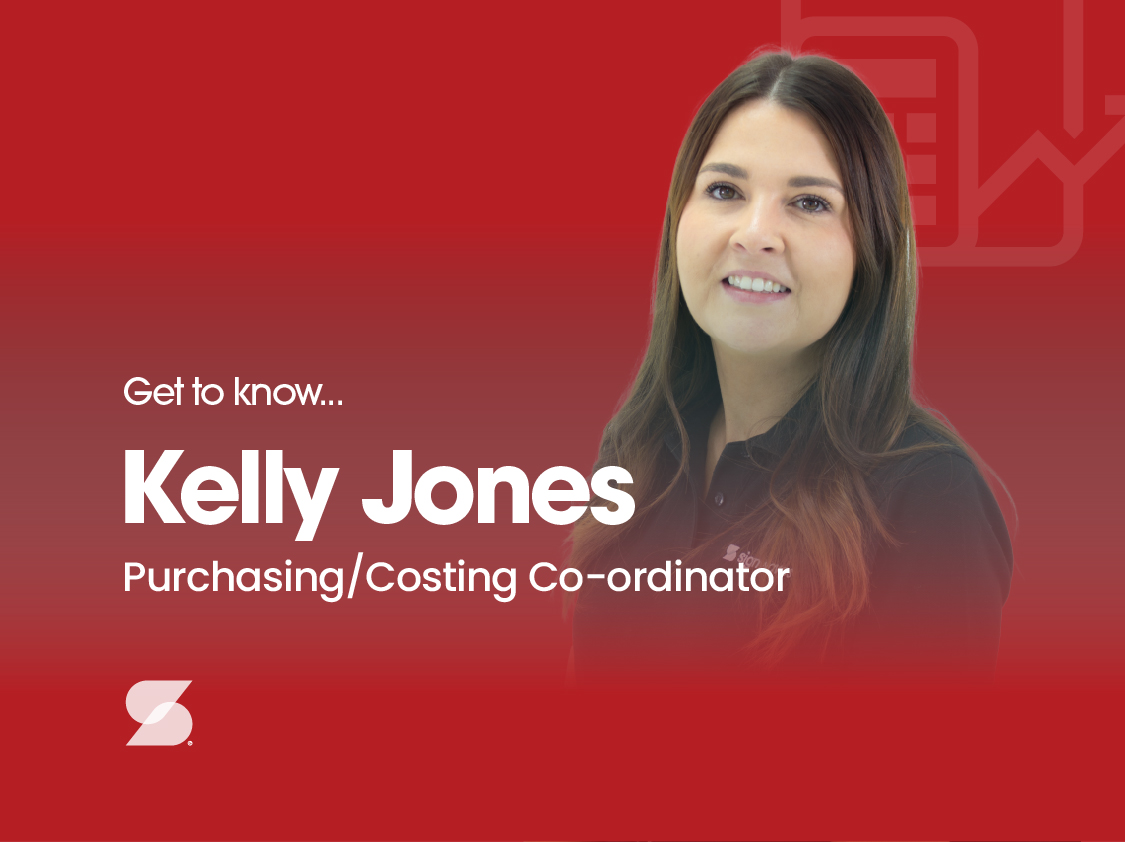 Kelly's response to the question "how long have you been at Signwaves? is a casual "lost count…. 12 and a half years!" That's right, she's been a part of the Signwaves family for over a decade, witnessing the company's growth and evolution firsthand!
Kelly's journey began at our sister company, Blooming Artificial, where she was the only employee, and she transitioned to the Commercial Department of Signwaves in 2014.
Roles and Responsibilities
Kelly wears many hats at Signwaves. On the purchasing side, she manages orders for standard goods from both UK and overseas suppliers. Her meticulous planning involves forecasting goods needed up to 14 weeks in advance, taking into account various holidays and events like Chinese New Year. Kelly is also the person behind ordering the company's essential catering supplies, making her the unsung hero responsible for keeping everyone suitably caffeinated.
On the commercial front, her responsibilities span a wide spectrum. She calculates the manufacturing costs for all of Signwaves' product ranges, creates internal sales calculators, maintains the customer-facing annual pricelist, identifies cost-saving opportunities, and handles bespoke project commercials.
In addition to her primary responsibilities, Kelly also serves as an Internal Auditor at Signwaves, contributing to the company's commitment to excellence.
Highlights, Challenges, and Surprises
Kelly revels in finding ways to save costs, and her proficiency in Excel is a valuable tool in this pursuit (she's even self-titled herself Queen of Excel - and we couldn't agree more!) There's a special kind of happiness Kelly feels when she watches projects evolve from enquiries to finished orders. But above all, what she cherishes most is the bond she shares with the Signwaves family/the rest of the Signwaves team.
One of the most challenging periods of her career was navigating through the pandemic. Kelly continued to work diligently, even from home with a preschooler, as Signwaves played a crucial role as a 'key worker' in supplying vital health and safety signage. It was a whirlwind, and she certainly hopes we never have to go through anything like that again!
The pandemic brought its share of surprises, too. One significant revelation was the skyrocketing material and delivery costs. These exorbitant rates made logistics management a daunting task for Kelly and the team. Fortunately, things appear to be slowly returning to some sort of normality!
A Glimpse into Personal Life
Beyond her professional life, Kelly's personal world revolves around family. She's a proud mum of three wonderful children and has been happily married to husband Sam for 9 years. Their eldest son, at 14, is the golden child, his younger brother is 7 going on 17 but makes them laugh daily and their youngest addition, a 1-year-old baby girl, has certainly added some excitement to their lives (and turned her and husband Sam grey!)
Hobbies are a luxury for Kelly, given her children's busy schedules. Kelly's weekends are a blend of sports and family adventures- from park runs to football, swimming lessons, and karate, there's never a dull moment in the household. Kelly is hopeful for a future theatre and dancing enthusiast in her daughter (or perhaps a rugby player…!) But when she does find a moment for herself, she enjoys interior design, reading, spending time with friends, shopping, following captivating TV series, and tackling escape rooms (with a perfect escape record so far).
Life Before Signwaves
Kelly's journey to Signwaves involved studying fashion and textiles at college and subsequently embarking on an apprenticeship that led to an A-level in business administration.
Favourite Signwaves Product
Kelly's enthusiasm shines through when asked about her favourite product, and she unequivocally declares, "10000% Cyclone! It's just such a beautiful solid sign."
Proudest Achievement
Outside of work, Kelly's proudest achievement is undoubtedly her three wonderful children.
Kelly's journey at Signwaves is a testament to her dedication, adaptability, and passion for cost-saving initiatives. She's not just a vital part of the team; she's a shining example of Signwaves' commitment to excellence and innovation.