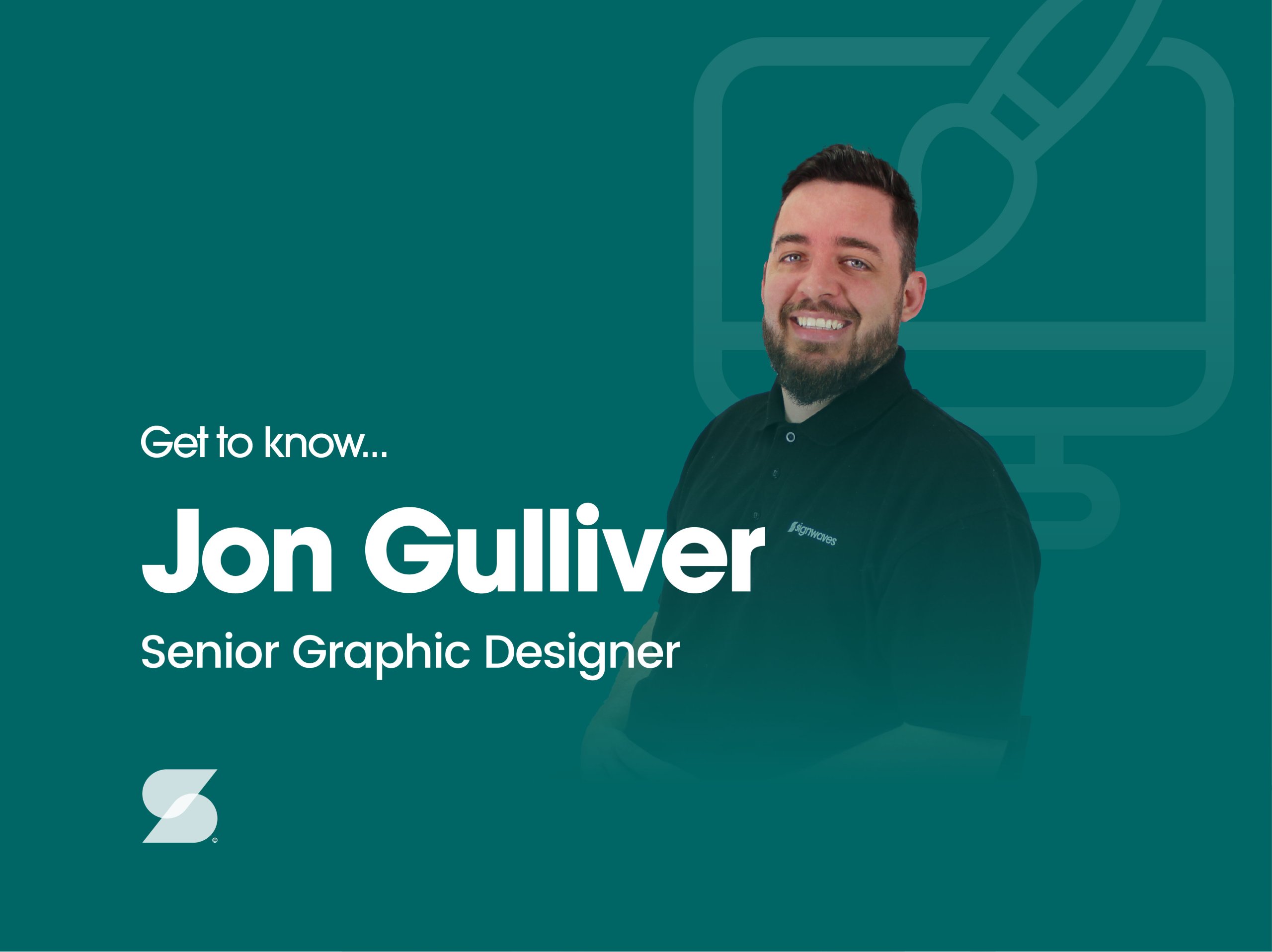 Hi, I'm Jon, the Senior Graphic Designer here at Signwaves.
Creativity has been a part of me since I was young. I've been fortunate enough to be recognised for my work, and I've won multiple POPAI design awards for innovation and wholesale. In 2018, I joined the Signwaves team as a Senior Graphic Designer, and I now oversee a talented group of three other graphics team members.
Throughout my time here, I've made it my mission to improve and streamline our processes within the Graphics Department. In fact, my role has recently expanded to include print output process management and development, as well as serving as a contingency cut path creator for our CNC machines. I take great pride in my ability to problem-solve, pay attention to detail, and deliver exceptional work on time.
I've had the pleasure of working with some amazing clients, collaborating directly with retailers and brands for many years. From the very beginning of a project, I handle everything from sketches to 2D designs, 3D visualisations, and other concepts right up to the final output. My designs cater to both print and web platforms, offering a complete package to our clients.
Without doubt, my favourite element of the Signwaves offer is POW! This incredibly simple yet highly effective forecourt sign allows for endless creative possibilities, and the borderless design on a product which can stand almost 2m tall makes for a spectacular eye-catching display.
A little bit about me when I'm not working on Signwaves projects…
I hail from the bustling cities of London and Essex but made the move to Suffolk in 2018. When I'm not designing, you'll find me indulging in my hobbies and interests. Although extreme sports have taken a backseat recently, I still enjoy watching them. I've been riding bikes since I was four years old and have tried my hand at downhill biking, BMX, skateboarding, snowboarding (indoors), roller skating, ice skating, rock climbing, and more.
In my downtime, I enjoy air pistol shooting at my local club, and I'm also an avid film buff, with a special admiration for directors like Alfred Hitchcock, Stanley Kubrick, Ridley Scott, and Martin Scorsese.
I have a knack for learning how to fix and create things. Whether it's using Haynes manuals to tinker with my car or motorbike or watching YouTube videos to perfect my shelf-building skills, I'm always up for a DIY challenge. I firmly believe that with the accessibility of technology, anyone can learn anything if they have the desire.
Above all, spending quality time with my family is incredibly important to me. They provide the support and inspiration that drive me to excel in both my personal and professional life.
That's a little glimpse into who I am, both as a Senior Graphic Designer and as a person. I'm passionate, diligent, and constantly striving to improve in all areas of the graphics department. I'm also eager to gain knowledge and understanding of other aspects of the business here at Signwaves.