Since the Swinger was designed for the National Lottery's launch in 1996 Signwaves have been involved in numerous projects for Camelot in a relationship spanning more than 20 years, including two of the most recognisable and innovative shop-front signs, 'Bobby' and 'Bubble'.
Bobby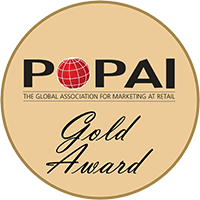 Bobby, the Weeble inspired pavement sign that 'wobbles but won't fall down', was designed to reflect the fun of the Lottery at premium outlets. It achieved this and picked up POPAI's top award for innovation:
One piece blow moulded HDPE

Low centre of gravity and counter weight – can blow or be pushed over but will always roll back to the upright

No moving or replacement parts

Soft rounded design for child and pedestrian safety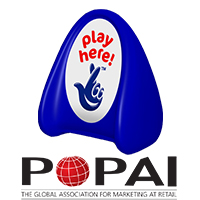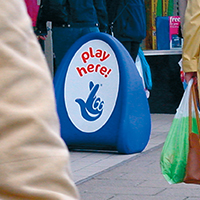 Bubble
Bubble was the product of the latest rebranding across approximately 48,000 retail sites. It included a double-sided shop front projecting sign as well as the now iconic pavement sign which can be seen on streets and forecourts up and down the land – as well as making regular guest appearances on the nations favourite TV soap operas and dramas!
A high-impact signage solution, playing on shape to draw attention to and enhance the instantly recognisable branding
Smart snap together component assembly allows logo 'discs' to be updated in the field without replacing the whole sign – reducing environmental impact and cost of rebranding
Blow-moulded blue HDPE body, injection moulded gloss white ABS discs with contour screen printed branding, recycled moulded PVC base.
Rounded styling for safety and improved wind resistance.